Welcome to 12 Weeks of Contemporary, where we highlight our favorite contemporary authors and their books here on our blog and on Instagram! 
This time we have Lauren Morrill, the author of THE TROUBLE WITH DESTINY!
---
What inspires you about contemporary YA?
Writing contemporary YA allows me to play pretend with my own teenage life, which was sadly way too boring to be the subject of a YA novel (unless you want to read about rollerblading up to the Texaco to get candy and then back home to watch SNL reruns on Comedy Central … there's very little romance in the YA of my teenage years!).
Does the setting of The Trouble With Destiny or My Unscripted Life mean something personal to you?
After just telling you that my teenage life was nothing like a YA novel, let me contradict that by saying that TWD was inspired by my own high school band trip, where we took a cruise to the Bahamas. But that's about where the similarities end. I was a stubborn rule follower, so there were decidedly no hijinks on our trip!
What's your favorite beach read?
I love to read contemp romance on the beach, so anything Sarah Dessen or Stephanie Perkins. I'm really looking forward to reading Summer Days and Summer Nights on my upcoming beach trip!
Describe your perfect summer.
Lots of trips to the pool with a big stack of books, an extra large Coke with extra ice, and a break for burgers and fries.
Describe Liza (from The Trouble With Destiny)'s perfect summer.
I'm pretty sure Liza, Huck, and Hillary (and the rest of the gang) are spending their summer watching movie musicals late into the night while gorging on junk food and hosting lip sync battles in Hillary's basement.
Where's your favorite place to read in the summertime?
I've probably spent more hours on my porch than I have in my actual house during the summer, almost all of them lounged out on our patio furniture reading! You can follow along using the hashtag #porchreads on Instagram to see what I'm reading!
What contemporary YA are you reading this summer?
I just finished AMERICAN GIRLS by Alison Umminger, which was fantastic! I'm about to start YOU KNOW ME WELL by Nina LaCour and David Levithan. I have a galley of THIS ADVENTURE ENDS by Emma Mills (First & Then) that I'm dying to jump into after that. And I'll probably take THE TRUTH ABOUT FOREVER by Sarah Dessen on my beach trip, because it's about time for a reread!
'Would You Rather' Summer Rapid Fire edition! Would you rather:
Ice cream or sorbet: rainbow sherbet
Lemonade or Iced Tea: put those together and you've got an Arnold Palmer!
Lake or Ocean: Ocean (no mosquitos!)
Jet-skiing or Parasailing: Neither please thank you I'd like to park my butt in a lounge chair and never leave
Sun or Shade: Shade
Lauren Morrill is the author of YA novels MEANT O BE, BEING SLOANE JACOBS, THE TROUBLE WITH DESITNY, and the forthcoming MY UNSCRIPTED LIFE (Oct 11, 2016). She was a journalism major, a music major, and a history major, though she ultimately only graduated with the History degree (and a string of ex-boyfriends). She still has no idea what she'll do with it. When she's not writing, she's busy stalking the shelves of the bookstore and the library in Macon, GA, where she lives with her husband and son.
WEBSITE | TWITTER | GOODREADS
Buy Lauren's books on Amazon, Barnes & Noble, Books A Million, and Indiebound.
---
Have you read PROOF OF FOREVER by Lexa Hillyer? It's our favorite summer beach read, and with the warmer months approaching, we completely recommend it! Here's a sneak-peak: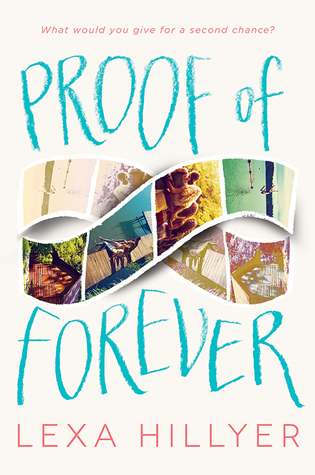 Before: It was the perfect summer of first kisses, skinny-dipping, and bonfires by the lake. Joy, Tali, Luce, and Zoe knew their final summer at Camp Okahatchee would come to an end, but they swore they'd stay friends.
After: Now, two years later, their bond has faded along with those memories.
Then: That is, until the fateful flash of a photo booth camera transports the four of them back in time, to the summer they were fifteen—the summer everything changed.
Now: The girls must recreate the past in order to return to the present. As they live through their second-chance summer, the mystery behind their lost friendship unravels, and a dark secret threatens to tear the girls apart all over again.
Always: Summers end. But this one will change them forever.
WEBSITE
Buy PROOF OF FOREVER on Amazon, Barnes & Noble, iBooks, and Indiebound.