Welcome to 12 Weeks of Contemporary, where we highlight our favorite contemporary authors and their books here on our blog and on Instagram! 
Today we have Lexa Hillyer! And the PROOF OF FOREVER ebook is only $1.99!
---
What inspires you about contemporary YA?
It's an area that's just exploding with incredible talent, a diversity of authentic experiences and compelling voices. I love fantasy and historical, too, but contemp was my first love as a reader.
Does the setting of Proof of Forever mean something personal to you?
Nope. Ha, just kidding, of course, yes! I was inspired by Lake Ossipee in New Hampshire, where my mom owns a small cottage among a cluster of cabins in the woods that used to be a girls' camp. Sylvia Plath went there and wrote this gorgeous, sad poem called Mystic, which might have been about her experience there. The location carries a lot of nostalgia for me.
What's your favorite beach read?
Of all time? JEEZ! Well I don't know if this counts but I remember reading TENDER IS THE NIGHT by F. Scott Fitzgerald during one particularly sultry summer when I was young, and I think of that paperback, with sand and tears stuck in the pages… it has kind of become symbolic of that feeling I associate with a beach read. More recently, I really loved Bennett Madison's SEPTEMBER GIRLS; it's beautifully-written, sexy, salty, moody, and perfect for summer. And then there's FAMOUS IN LOVE by my good friend Rebecca Serle, which is currently being made into a TV show. The show is mostly set in Hollywood but the book actually has a ton of beachy romance that swept me away when I read it!
Describe your perfect summer.
Friends, family, barbeques, beach, rose by the gallons, and lots of time for reading and writing.
Describe Joy's perfect summer.
This one. No time like the present (or, in this case, the past.)
Where's your favorite place to read in the summertime?
Under an umbrella at the beach, obviously! But a hammock—any hammock—is a close second.
What contemporary YA are you reading this summer?
The first one I have on order is Brenna Yovanoff's PLACES NO ONE KNOWS. I absolutely love her writing and can't wait!
'Would You Rather' Summer Rapid Fire edition! Would you rather:
Ice cream or Sorbet: Ice Cream
Lemonade or Iced Tea: Iced Tea
Lake or Ocean: Lake
Jet-skiing or Parasailing: Sunbathing
Sun or Shade: Depends on whether I'm trying to tan or trying to read!
Lexa Hillyer is the author of the upcoming novel Spindle Fire–due out in April 2017–and PROOF OF FOREVER, both published by HarperCollins. She is also the author of ACQUAINTED WITH THE COLD (Bona Fide Books), the 2012 gold prize winner of the Foreword Book of the Year Award for Poetry and recipient of the Melissa Lanitis Gregory Poetry Prize. Her work was featured in Best New Poets 2012 and she has received various prizes and honors for poetry. Lexa earned her BA in English from Vassar College and her MFA in Poetry from Stonecoast at the University of Southern Maine. She worked as an editor at both HarperCollins and Penguin, before co-founding boutique literary incubator Paper Lantern Lit. She lives in Brooklyn with her husband and daughter and their very skinny orange tree.
---
Have you read PROOF OF FOREVER? It's our favorite summer beach read, and with the warmer months approaching, we completely recommend it! Here's a sneak-peak: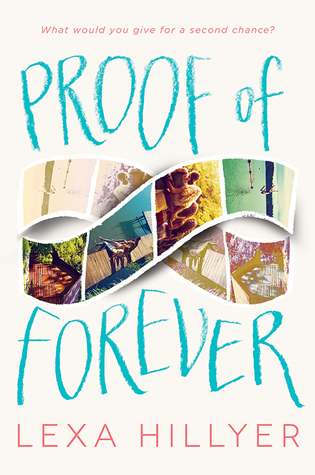 Before: It was the perfect summer of first kisses, skinny-dipping, and bonfires by the lake. Joy, Tali, Luce, and Zoe knew their final summer at Camp Okahatchee would come to an end, but they swore they'd stay friends.
After: Now, two years later, their bond has faded along with those memories.
Then: That is, until the fateful flash of a photo booth camera transports the four of them back in time, to the summer they were fifteen—the summer everything changed.
Now: The girls must recreate the past in order to return to the present. As they live through their second-chance summer, the mystery behind their lost friendship unravels, and a dark secret threatens to tear the girls apart all over again.
Always: Summers end. But this one will change them forever.
Buy PROOF OF FOREVER on Amazon, Barnes & Noble, iBooks, and Indiebound.