Welcome to 12 Weeks of Contemporary, where we highlight our favorite contemporary authors and their books here on our blog and on Instagram! 
This time we have Shalanda Stanley, the author of DROWNING IS INEVITABLE!
---
What inspires you about contemporary YA?
How brave it is. Contemporary YA tackles such a wide array of real-world topics. There is nothing contemporary YA won't touch, or YA in general. I can always tell when someone isn't well read in YA when they say they don't read YA because, "I like my stories darker, grittier, happier, fluffier, meaner, sexier, sweeter…" If you can think up a situation, there is a YA book for that. Some of the most complex and elegant story telling is happening in YA and it's inspiring to me that Contemporary YA depicts teens' lives, their problems, their loves, in starkly realistic fashion.
I think that's why I love Contemporary in general. This may sound weird, but I like how confining it is. There are definite boundaries when reading and writing contemporary that is extremely attractive to me. I like that the characters in the story are bound by the realities of our world. Magic won't fix the problem. Animals don't talk. There is no oracle with all the answers. Not to say I don't love books that have all of those things. I do. It's just that it's really appealing to me that contemporary books have to solve their problems in the world I live in.
Does the setting of Drowning is Inevitable mean something personal to you?
Absolutely. The book takes place in St. Francisville, LA, which is this tiny town in South Louisiana that's known for its random festivals and Live Oak Trees. (The trees are my favorite thing about the place. The branches are so big and heavy that some sweep all the way to the ground.) The graveyards predate the Civil War and the people have a special kind of wisdom. It's my favorite place in Louisiana, maybe my favorite place anywhere. It's completely isolated, hiding between green bluffs and the Mississippi River. Even though there is a portion of the story where the teens are in New Orleans, their hearts and lives are still very much caught up in their small hometown.
People have joked that you need to have a passport to go down there, because it really is its own weird and special place. It was my goal when writing Drowning is Inevitable that St. Francisville feel more like a character in the story than just the setting and the biggest compliment I get from readers are those that tell me now that they've read the book they want to come to St. Francisville.
On a personal note, I live in Monroe, Louisiana, which is about three hours north of St. Francisville and a few years ago, I was working on my PhD at LSU and driving sometimes twice a week from Monroe to Baton Rouge to commute for classes. I'd always stop off in St. Francisville for a bathroom break and I fell in love with the place. I started looking forward to my pit stops and after a time I'd leave home earlier so I'd have more time to wander around this tiny place. Life is crazy and at that time, my life was really crazy. I had so many demands on me and my time that I felt overwhelmed and anxious a lot of the time. St. Francisville helped me find my quiet again and for me, finding that peace was the thing that made it possible to write a novel. Before I found St. Francisville, I didn't think I had a novel in me.
What's your favorite beach read?
They're all my favorite beach read. I don't have one type. (I'm a very promiscuous reader.) My last two beach trips I've read really dark books. I don't know why. I went on a Gillian Flynn kick and read everything she wrote. During my last beach trip I read Dark Places and then The Girl On The Train and then because I was in a beach house with my entire extended family, I eyed all of them suspiciously trying to figure out which one of them was probably a killer.
Describe your perfect summer.
My perfect summer is days and days of sleeping in and not knowing what day of the week it is, reading a novel a week and writing late into the night on that secret project that I love and haven't told anyone about. (My favorite part of the writing process is when the story I'm cooking is just mine.)
Describe Olivia's perfect summer.
Olivia's perfect summer is spending her days with Jamie, Maggie, and Max. They are such a tight group of friends. They'd hang out on her grandmother's front porch and drink coffee at Bird Man's and in the evenings they'd go listen to Maggie sing at Magnolia's.
Where's your favorite place to read in the summertime? (Bonus points for a photo!)
The beach! My family makes an annual beach trip to this small beach town in Alabama and pretty much the only thing I pack is books.
What contemporary YA are you reading this summer?
I'm heading out for that aforementioned annual beach trip in two days and so far the contemporary books I've packed (and am so excited to read) are Ashley Herring Blake's Suffer Love, Meredith Russo's If I Was Your Girl, and Julie Buxbaum's Tell Me Three Things.
'Would You Rather' Summer Rapid Fire edition! Would you rather:
Ice cream or Sorbet: Ice cream! (I don't know why I yelled that answer. I just get really excited about ice cream.)
Lemonade or Iced Tea: Iced Tea, but only if it's sweet tea. I'm southern.
Lake or Ocean: Ocean all the way.
Jet-skiing or Parasailing: Jet-skiing. I was fifteen the one and only time I went parasailing and I almost died. No, really. There was a lot of wind that day and when we tried to land, the wind kept blowing us up and toward the hotels on the beach. When we were finally able to land, we came down fast and hard. My friend was attached to my back and we both scream-cried all the way down to the sand. I think I hit face first. My friend's mom took pictures of the whole crazy descent, which would have been terrible if we'd actually died. So, jet-skiing.
Sun or Shade: Shade. It's hard to read if you're not sitting in the shade.
Shalanda Stanley grew up in Louisiana and earned her BA in creative writing at Florida State University. She has an MEd in special education from the University of Louisiana at Monroe and a PhD from LSU in curriculum and instruction, with a focus in reading and literacy education. She's an assistant professor at the University of Louisiana at Monroe, where she also lives with her family.
WEBSITE | TWITTER | GOODREADS
Buy Shalanda's book on Amazon, Barnes & Noble, Books A Million, and Indiebound.

---
Have you read PROOF OF FOREVER by Lexa Hillyer? It's our favorite summer beach read, and with the warmer months approaching, we completely recommend it! Here's a sneak-peak: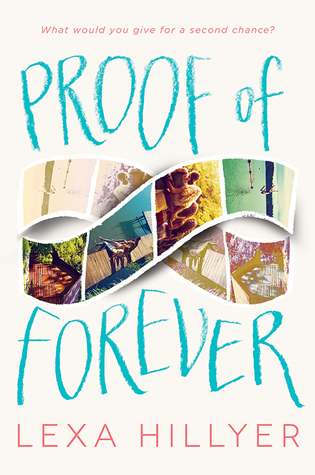 Before: It was the perfect summer of first kisses, skinny-dipping, and bonfires by the lake. Joy, Tali, Luce, and Zoe knew their final summer at Camp Okahatchee would come to an end, but they swore they'd stay friends.
After: Now, two years later, their bond has faded along with those memories.
Then: That is, until the fateful flash of a photo booth camera transports the four of them back in time, to the summer they were fifteen—the summer everything changed.
Now: The girls must recreate the past in order to return to the present. As they live through their second-chance summer, the mystery behind their lost friendship unravels, and a dark secret threatens to tear the girls apart all over again.
Always: Summers end. But this one will change them forever.
WEBSITE
Buy PROOF OF FOREVER on Amazon, Barnes & Noble, iBooks, and Indiebound.