For Pride month we wanted to highlight and recommend some amazing LGBTQIAP+ books! This is by no means a comprehensive list, merely a place to start if you want to support LGBTQIAP+ fiction and, in some cases, LGBTQIAP+ authors. This is the list with Science-Fiction books, but check out the Contemporary and Fantasy lists!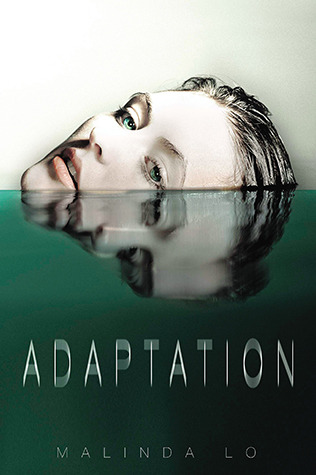 ADAPTATION, by Malinda Lo
Tags: Young Adult, Bisexual, Lesbian, Aliens, Dystopia, #OwnVoices
Reese can't remember anything from the time between the accident and the day she woke up almost a month later. She only knows one thing: She's different now.
Across North America, flocks of birds hurl themselves into airplanes, causing at least a dozen to crash. Thousands of people die. Fearing terrorism, the United States government grounds all flights, and millions of travelers are stranded.
Reese and her debate team partner and longtime crush David are in Arizona when it happens. Everyone knows the world will never be the same. On their drive home to San Francisco, along a stretch of empty highway at night in the middle of Nevada, a bird flies into their headlights. The car flips over. When they wake up in a military hospital, the doctor won't tell them what happened, where they are—or how they've been miraculously healed.
Things become even stranger when Reese returns home. San Francisco feels like a different place with police enforcing curfew, hazmat teams collecting dead birds, and a strange presence that seems to be following her. When Reese unexpectedly collides with the beautiful Amber Gray, her search for the truth is forced in an entirely new direction—and threatens to expose a vast global conspiracy that the government has worked for decades to keep secret.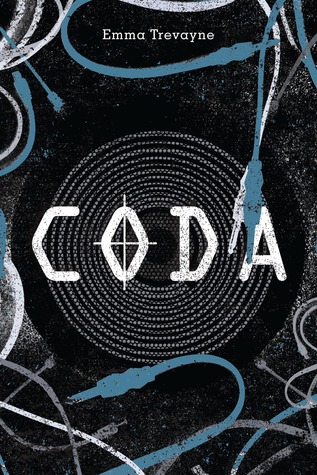 CODA, by Emma Trevayne
Tags: Young Adult, Bisexual
Ever since he was a young boy, music has coursed through the veins of eighteen-year-old Anthem—the Corp has certainly seen to that. By encoding music with addictive and mind-altering elements, the Corp holds control over all citizens, particularly conduits like Anthem, whose life energy feeds the main power in the Grid.
Anthem finds hope and comfort in the twin siblings he cares for, even as he watches the life drain slowly and painfully from his father. Escape is found in his underground rock band, where music sounds free, clear, and unencoded deep in an abandoned basement. But when a band member dies suspiciously from a tracking overdose, Anthem knows that his time has suddenly become limited. Revolution all but sings in the air, and Anthem cannot help but answer the call with the chords of choice and free will. But will the girl he loves help or hinder him?
THE CULLING, by Steven dos Santos
Tags: Young Adult, Gay, #OwnVoices
Recruitment Day is here…if you fail, a loved one will die…
For Lucian "Lucky" Spark, Recruitment Day means the Establishment, a totalitarian government, will force him to become one of five Recruits competing to join the ruthless Imposer task force. Each Recruit participates in increasingly difficult and violent military training for a chance to advance to the next level. Those who fail must choose an "Incentive"—a family member—to be brutally killed. If Lucky fails, he'll have to choose death for his only living relative: Cole, his four-year-old brother.
Lucky will do everything he can to keep his brother alive, even if it means sacrificing the lives of other Recruits' loved ones. What Lucky isn't prepared for is his undeniable attraction to the handsome, rebellious Digory Tycho. While Lucky and Digory train together, their relationship grows. But daring to care for another Recruit in a world where love is used as the ultimate weapon is extremely dangerous. As Lucky soon learns, the consequences can be deadly…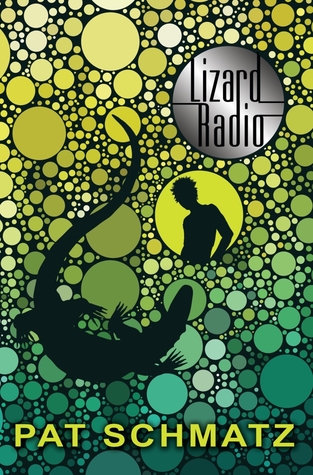 LIZARD RADIO, by Pat Schmatz
Tags: Young Adult, Queer, Genderqueer, #OwnVoices
Fifteen-year-old Kivali has never fit in. As a girl in boys' clothes, she is accepted by neither tribe, bullied by both. What are you? they ask. Abandoned as a baby wrapped in a T-shirt with an image of a lizard on the front, Kivali found a home with nonconformist artist Sheila. Is it true what Sheila says, that Kivali was left by a mysterious race of saurians and that she'll one day save the world? Kivali doesn't think so. But if it is true, why has Sheila sent her off to CropCamp, with its schedules and regs and what feels like indoctrination into a gov-controlled society Kivali isn't sure has good intentions?
But life at CropCamp isn't all bad. Kivali loves being outdoors and working in the fields. And for the first time, she has real friends: sweet, innocent Rasta; loyal Emmett; fierce, quiet Nona. And then there's Sully. The feelings that explode inside Kivali whenever Sully is near—whenever they touch—are unlike anything she's experienced, exhilarating and terrifying. But does Sully feel the same way?
Between mysterious disappearances, tough questions from camp director Ms. Mischetti, and weekly doses of kickshaw—the strange, druglike morsel that Kivali fears but has come to crave—things get more and more complicated. But Kivali has an escape: her unique ability to channel and explore the power of her animal self. She has Lizard Radio.
Will it be enough to save her?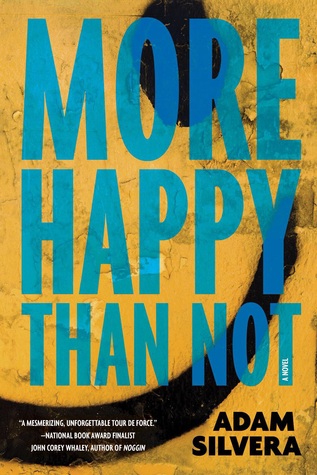 MORE HAPPY THAN NOT, by Adam Silvera
Tags: Young Adult, 
Gay
, Contemporary, #OwnVoices
In the months after his father's suicide, it's been tough for 16-year-old Aaron Soto to find happiness again–but he's still gunning for it. With the support of his girlfriend Genevieve and his overworked mom, he's slowly remembering what that might feel like. But grief and the smile-shaped scar on his wrist prevent him from forgetting completely.
When Genevieve leaves for a couple of weeks, Aaron spends all his time hanging out with this new guy, Thomas. Aaron's crew notices, and they're not exactly thrilled. But Aaron can't deny the happiness Thomas brings or how Thomas makes him feel safe from himself, despite the tensions their friendship is stirring with his girlfriend and friends. Since Aaron can't stay away from Thomas or turn off his newfound feelings for him, he considers turning to the Leteo Institute's revolutionary memory-alteration procedure to straighten himself out, even if it means forgetting who he truly is.
Why does happiness have to be so hard?
PROXY, by Alex London
Tags: Young Adult, Gay, #OwnVoices
Knox was born into one of the City's wealthiest families. A Patron, he has everything a boy could possibly want—the latest tech, the coolest clothes, and a Proxy to take all his punishments. When Knox breaks a vase, Syd is beaten. When Knox plays a practical joke, Syd is forced to haul rocks. And when Knox crashes a car, killing one of his friends, Syd is branded and sentenced to death.
Syd is a Proxy. His life is not his own.
Then again, neither is Knox's. Knox and Syd have more in common than either would guess. So when Knox and Syd realize that the only way to beat the system is to save each other, they flee. Yet Knox's father is no ordinary Patron, and Syd is no ordinary Proxy. The ensuing cross-country chase will uncover a secret society of rebels, test both boys' resolve, and shine a blinding light onto a world of those who owe and those who pay. Some debts, it turns out, cannot be repaid.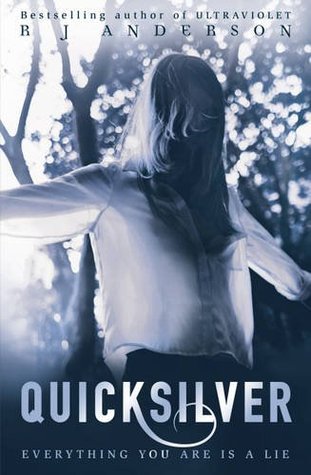 QUICKSILVER, by R. J. Anderson
Tags: Young Adult, Asexual, Aliens
Back in her hometown, Tori Beaugrand had everything a teenaged girl could want—popularity, money, beauty. But she also had a secret. A secret that could change her life in an instant, or destroy it.Now she's left everything from her old life behind, including her real name and Alison, the one friend who truly understood her. She can't escape who and what she is. But if she wants to have anything like a normal life, she has to blend in and hide her unusual… talents.Plans change when the enigmatic Sebastian Faraday reappears and gives Tori some bad news: she hasn't escaped her past. In fact, she's attracted new interest in the form of an obsessed ex-cop turned investigator for a genetics lab.
She has one last shot at getting her enemies off her trail and winning the security and independence she's always longed for. But saving herself will take every ounce of Tori's incredible electronics and engineering skills—and even then, she may need to sacrifice more than she could possibly imagine if she wants to be free.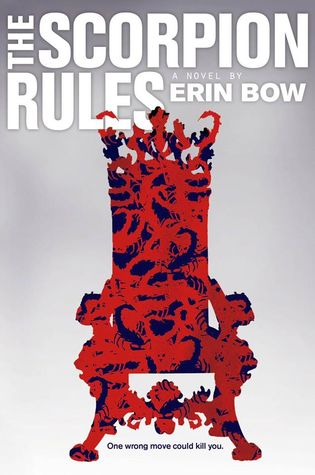 THE SCORPION RULES, by Erin Bow
Tags: Young Adult, Bisexual, Lesbian 
The world is at peace, said the Utterances. And really, if the odd princess has a hard day, is that too much to ask?
Greta is a duchess and crown princess—and a hostage to peace. This is how the game is played: if you want to rule, you must give one of your children as a hostage. Go to war and your hostage dies.
Greta will be free if she can survive until her eighteenth birthday. Until then she lives in the Precepture school with the daughters and sons of the world's leaders. Like them, she is taught to obey the machines that control their lives. Like them, she is prepared to die with dignity, if she must. But everything changes when a new hostage arrives. Elián is a boy who refuses to play by the rules, a boy who defies everything Greta has ever been taught. And he opens Greta's eyes to the brutality of the system they live under—and to her own power.
As Greta and Elián watch their nations tip closer to war, Greta becomes a target in a new kind of game. A game that will end up killing them both—unless she can find a way to break all the rules.
THE UNINTENTIONAL TIME TRAVELER, by Everett Maroon
Tags: Young Adult, Trans
Fifteen-year-old Jack Bishop has mad skills with cars and engines, but knows he'll never get a driver's license because of his epilepsy. Agreeing to participate in an experimental clinical trial to find new treatments for his disease, he finds himself in a completely different body—that of a girl his age, Jacqueline, who defies the expectations of her era. Since his seizures usually give him spazzed out visions, Jack presumes this is a hallucination. Feeling fearless, he steals a horse, expecting that at any moment he'll wake back up in the clinical trial lab. When that doesn't happen, Jacqueline falls unexpectedly in love, even as the town in the past becomes swallowed in a fight for its survival. Jack/Jacqueline is caught between two lives and epochs, and must find a way to save everyone around him as well as himself. And all the while, he is losing time, even if he is getting out of algebra class.
WE ARE THE ANTS, by Shaun David Hutchinson
Tags: Young Adult, Gay, Mental Ilness
There are a few things Henry Denton knows, and a few things he doesn't.
Henry knows that his mom is struggling to keep the family together, and coping by chain-smoking cigarettes. He knows that his older brother is a college dropout with a pregnant girlfriend. He knows that he is slowly losing his grandmother to Alzheimer's. And he knows that his boyfriend committed suicide last year.
What Henry doesn't know is why the aliens chose to abduct him when he was thirteen, and he doesn't know why they continue to steal him from his bed and take him aboard their ship. He doesn't know why the world is going to end or why the aliens have offered him the opportunity to avert the impending disaster by pressing a big red button.
But they have. And they've only given him 144 days to make up his mind.
The question is whether Henry thinks the world is worth saving. That is, until he meets Diego Vega, an artist with a secret past who forces Henry to question his beliefs, his place in the universe, and whether any of it really matters. But before Henry can save the world, he's got to figure out how to save himself, and the aliens haven't given him a button for that.
Bonus! Upcoming book: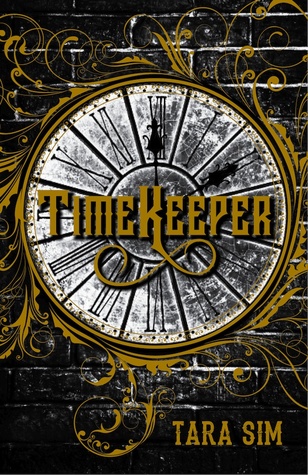 TIMEKEEPER, by Tara Sim
Tags: Young Adult, Gay, Steampunk
Two o'clock was missing.
In an alternate Victorian world controlled by clock towers, a damaged clock can fracture time—and a destroyed one can stop it completely.
It's a truth that seventeen-year-old clock mechanic Danny Hart knows all too well; his father has been trapped in a Stopped town east of London for three years. Though Danny is a prodigy who can repair not only clockwork, but the very fabric of time, his fixation with staging a rescue is quickly becoming a concern to his superiors.
And so they assign him to Enfield, a town where the tower seems to be forever plagued with problems. Danny's new apprentice both annoys and intrigues him, and though the boy is eager to work, he maintains a secretive distance. Danny soon discovers why: he is the tower's clock spirit, a mythical being that oversees Enfield's time. Though the boys are drawn together by their loneliness, Danny knows falling in love with a clock spirit is forbidden, and means risking everything he's fought to achieve.
But when a series of bombings at nearby towers threaten to Stop more cities, Danny must race to prevent Enfield from becoming the next target or he'll not only lose his father, but the boy he loves, forever.
What about you, what books would you recommend? Leave some suggestions in the comments!