For Pride month we wanted to highlight and recommend some amazing LGBTQIAP+ books! This is by no means a comprehensive list, merely a place to start if you want to support LGBTQIAP+ fiction and, in some cases, LGBTQIAP+ authors. This is the list with fantasy books, but check out the Contemporary list, and soon the Science-Fiction one!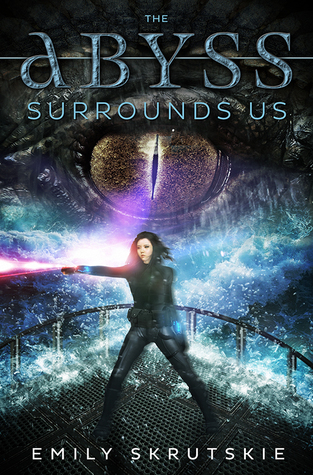 THE ABYSS SURROUNDS US, by Emily Skrutskie
Tags: Young Adult, Lesbian
For Cassandra Leung, bossing around sea monsters is just the family business. She's been a Reckoner trainer-in-training ever since she could walk, raising the genetically-engineered beasts to defend ships as they cross the pirate-infested NeoPacific. But when the pirate queen Santa Elena swoops in on Cas's first solo mission and snatches her from the bloodstained decks, Cas's dream of being a full-time trainer seems dead in the water.
There's no time to mourn. Waiting for her on the pirate ship is an unhatched Reckoner pup. Santa Elena wants to take back the seas with a monster of her own, and she needs a proper trainer to do it. She orders Cas to raise the pup, make sure he imprints on her ship, and, when the time comes, teach him to fight for the pirates. If Cas fails, her blood will be the next to paint the sea.
But Cas has fought pirates her entire life. And she's not about to stop.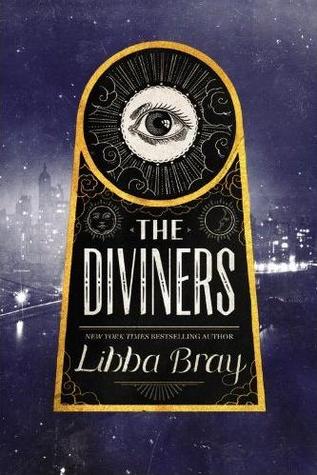 THE DIVINERS, by Libba Bray
Tags: Young Adult, Gay, Historical, (more queer characters in the sequel)
Evie O'Neill has been exiled from her boring old hometown and shipped off to the bustling streets of New York City—and she is pos-i-tute-ly ecstatic. It's 1926, and New York is filled with speakeasies, Ziegfeld girls, and rakish pickpockets. The only catch is that she has to live with her uncle Will and his unhealthy obsession with the occult.
Evie worries he'll discover her darkest secret: a supernatural power that has only brought her trouble so far. But when the police find a murdered girl branded with a cryptic symbol and Will is called to the scene, Evie realizes her gift could help catch a serial killer.
As Evie jumps headlong into a dance with a murderer, other stories unfold in the city that never sleeps. A young man named Memphis is caught between two worlds. A chorus girl named Theta is running from her past. A student named Jericho hides a shocking secret. And unknown to all, something dark and evil has awakened.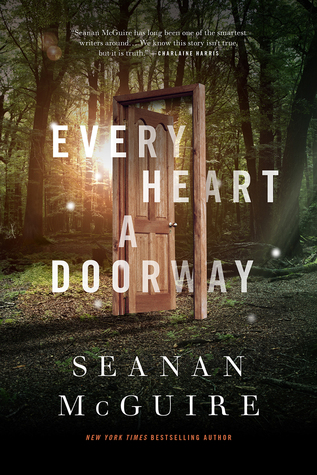 EVERY HEART A DOORWAY, by Seanan McGuire
Tags: Young Adult, Asexual, Novella, Mystery
Eleanor West's Home for Wayward Children
No Solicitations
No Visitors
No Quests
Children have always disappeared under the right conditions; slipping through the shadows under a bed or at the back of a wardrobe, tumbling down rabbit holes and into old wells, and emerging somewhere… else.
But magical lands have little need for used-up miracle children.
Nancy tumbled once, but now she's back. The things she's experienced… they change a person. The children under Miss West's care understand all too well. And each of them is seeking a way back to their own fantasy world.
But Nancy's arrival marks a change at the Home. There's a darkness just around each corner, and when tragedy strikes, it's up to Nancy and her new-found schoolmates to get to the heart of the matter.
No matter the cost.
HERO, by Perry Moore
Tags: Young Adult, Gay, Super Heroes, #OwnVoices
The last thing in the world Thom Creed wants is to add to his father's pain, so he keeps secrets. Like that he has special powers. And that he's been asked to join the League – the very organization of superheroes that spurned his dad. But the most painful secret of all is one Thom can barely face himself: he's gay.
But becoming a member of the League opens up a new world to Thom. There, he connects with a misfit group of aspiring heroes, including Scarlett, who can control fire but not her anger; Typhoid Larry, who can make anyone sick with his touch; and Ruth, a wise old broad who can see the future. Like Thom, these heroes have things to hide; but they will have to learn to trust one another when they uncover a deadly conspiracy within the League.
To survive, Thom will face challenges he never imagined. To find happiness, he'll have to come to terms with his father's past and discover the kind of hero he really wants to be.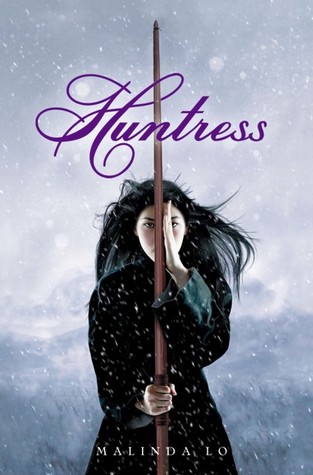 HUNTRESS, by Malinda Lo
Tags: Young Adult, 
Lesbian
, Diversity, #OwnVoices
Nature is out of balance in the human world. The sun hasn't shone in years, and crops are failing. Worse yet, strange and hostile creatures have begun to appear. The people's survival hangs in the balance.
To solve the crisis, the oracle stones are cast, and Kaede and Taisin, two seventeen-year-old girls, are picked to go on a dangerous and unheard-of journey to Tanlili, the city of the Fairy Queen. Taisin is a sage, thrumming with magic, and Kaede is of the earth, without a speck of the otherworldly. And yet the two girls' destinies are drawn together during the mission. As members of their party succumb to unearthly attacks and fairy tricks, the two come to rely on each other and even begin to fall in love. But the Kingdom needs only one huntress to save it, and what it takes could tear Kaede and Taisin apart forever.
The exciting adventure prequel to Malinda Lo's highly acclaimed novel Ash is overflowing with lush Chinese influences and details inspired by the I Ching, and is filled with action and romance.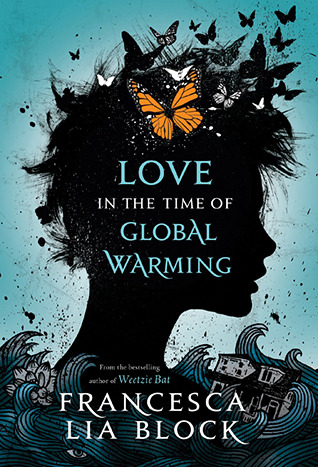 LOVE IN TIME OF GLOBAL WARMING, by Francesca Lia Block
Tags: Young Adult, 
Trans, Bisexual, Mythology
Her life by the sea in ruins, Pen has lost everything in the Earth Shaker that all but destroyed the city of Los Angeles. She sets out into the wasteland to search for her family, her journey guided by a tattered copy of Homer's Odyssey. Soon she begins to realize her own abilities and strength as she faces false promises of safety, the cloned giants who feast on humans, and a madman who wishes her dead. On her voyage, Pen learns to tell stories that reflect her strange visions, while she and her fellow survivors navigate the dangers that lie in wait. In her signature style, Francesca Lia Block has created a world that is beautiful in its destruction and as frightening as it is lovely. At the helm is Pen, a strong heroine who holds hope and love in her hands and refuses to be defeated.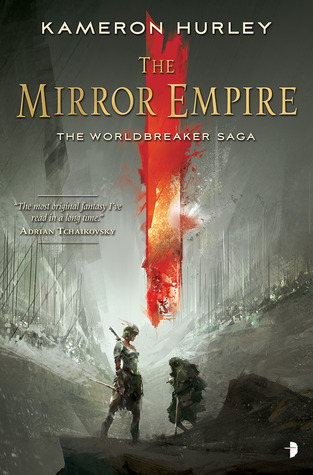 THE MIRROR EMPIRE, by Kameron Hurley
Tags: Adult, 
Pansexual
In the eve of a recurring catastrophic event known to extinguish nations and reshape continents, a troubled orphan evades death and slavery to uncover her own bloody past… while a world goes to war with itself.
In the frozen kingdom of Saiduan, invaders from another realm are decimating whole cities, leaving behind nothing but ash and ruin.
As the dark star of the cataclysm rises, an illegitimate ruler is tasked with holding together a country fractured by civil war, a precocious young fighter is asked to betray his family and a half-Dhai general must choose between the eradication of her father's people or loyalty to her alien Empress.
Through tense alliances and devastating betrayal, the Dhai and their allies attempt to hold against a seemingly unstoppable force as enemy nations prepare for a coming together of worlds as old as the universe itself.
In the end, one world will rise – and many will perish.
OTHERBOUND, by Corinne Duyvis
Tags: Young Adult, Bisexual
, Queer, Disability, #OwnVoices
Amara is never alone. Not when she's protecting the cursed princess she unwillingly serves. Not when they're fleeing across dunes and islands and seas to stay alive. Not when she's punished, ordered around, or neglected.
She can't be alone, because a boy from another world experiences all that alongside her, looking through her eyes.
Nolan longs for a life uninterrupted. Every time he blinks, he's yanked from his Arizona town into Amara's mind, a world away, which makes even simple things like hobbies and homework impossible. He's spent years as a powerless observer of Amara's life. Amara has no idea . . . until he learns to control her, and they communicate for the first time. Amara is terrified. Then, she's furious.
All Amara and Nolan want is to be free of each other. But Nolan's breakthrough has dangerous consequences. Now, they'll have to work together to survive–and discover the truth about their connection.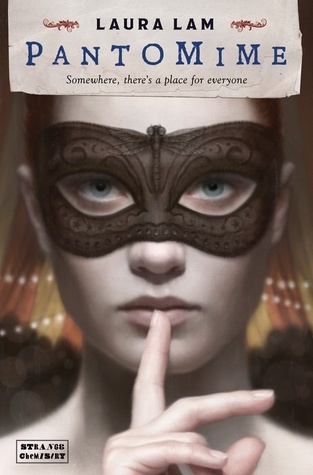 PANTOMIME, by Laura Lam
Tags: Young Adult, Intersex, Bisexual, Historical, #OwnVoices
In a land of lost wonders, the past is stirring once more
Gene's life resembles a debutante's dream. Yet she hides a secret that would see her shunned by the nobility. Gene is both male and female. Then she displays unwanted magical abilities – last seen in mysterious beings from an almost-forgotten age. Matters escalate further when her parents plan a devastating betrayal, so she flees home, dressed as a boy.
The city beyond contains glowing glass relics from a lost civilization. They call to her, but she wants freedom not mysteries. So, reinvented as 'Micah Grey', Gene joins the circus. As an aerialist, she discovers the joy of flight – but the circus has a dark side. She's also plagued by visions foretelling danger. A storm is howling in from the past, but will she heed its roar?
WAKE OF VULTURES, by Lila Bowen
Tags: Young Adult, Bisexual, 
Genderqueer, Western
A rich, dark fantasy of destiny, death, and the supernatural world hiding beneath the surface.
Nettie Lonesome lives in a land of hard people and hard ground dusted with sand. She's a half-breed who dresses like a boy, raised by folks who don't call her a slave but use her like one. She knows of nothing else. That is, until the day a stranger attacks her. When nothing, not even a sickle to the eye can stop him, Nettie stabs him through the heart with a chunk of wood, and he turns into black sand.
And just like that, Nettie can see.
But her newfound sight is a blessing and a curse. Even if she doesn't understand what's under her own skin, she can sense what everyone else is hiding — at least physically. The world is full of evil, and now she knows the source of all the sand in the desert. Haunted by the spirits, Nettie has no choice but to set out on a quest that might lead to her true kin… if the monsters along the way don't kill her first.
Bonus! Upcoming book: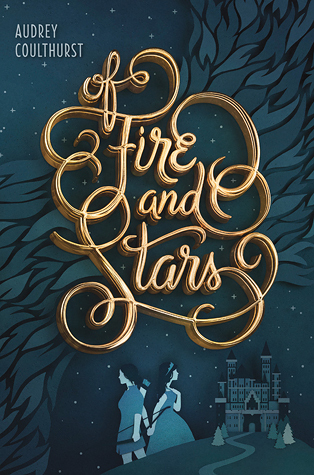 OF FIRE AND STARS, by Audrey Coulthurst
Tags: Young Adult, Lesbian, #OwnVoices
Betrothed since childhood to the prince of Mynaria, Princess Dennaleia has always known what her future holds. Her marriage will seal the alliance between Mynaria and her homeland, protecting her people from other hostile lands. But Denna has a secret. She possesses an Affinity for fire—a dangerous gift for the future queen of a kingdom where magic is forbidden.
Now, Denna must learn the ways of her new home while trying to hide her growing magic. To make matters worse, she must learn to ride Mynaria's formidable warhorses before her coronation—and her teacher is the person who intimidates her most, the prickly and unconventional Princess Amaranthine (called Mare), sister of her betrothed.
When a shocking assassination leaves the kingdom reeling, Mare and Denna reluctantly join forces to search for the culprit. As the two work together, each discovers there's more to the other than she thought. Mare is surprised by Denna's intelligence and bravery, while Denna is drawn to Mare's independent streak. Soon their friendship is threatening to blossom into something more.
But with dangerous conflict brewing that makes the alliance more important than ever, acting on their feelings could be deadly. Forced to choose between their duty and their hearts, Mare and Denna must find a way to save their kingdoms—and each other.
What about you, what books would you recommend? Leave some suggestions in the comments!