For Pride month we wanted to highlight and recommend some amazing LGBTQIAP+ books! This is by no means a comprehensive list, merely a place to start if you want to support LGBTQIAP+ fiction and, in most cases, LGBTQIAP+ authors. This list has contemporary books, but check back soon for the Fantasy list, as well as the Science-Fiction one!
BETTER NATE THAN EVER, by Tim Federle
Tags: Middle Grade, Gay, #OwnVoices
Nate Foster has big dreams. His whole life, he's wanted to star in a Broadway show. (Heck, he'd settle for *seeing* a Broadway show.) But how is Nate supposed to make his dreams come true when he's stuck in Jankburg, Pennsylvania, where no one (except his best pal Libby) appreciates a good show tune? With Libby's help, Nate plans a daring overnight escape to New York. There's an open casting call for E.T.: The Musical, and Nate knows this could be the difference between small-town blues and big-time stardom.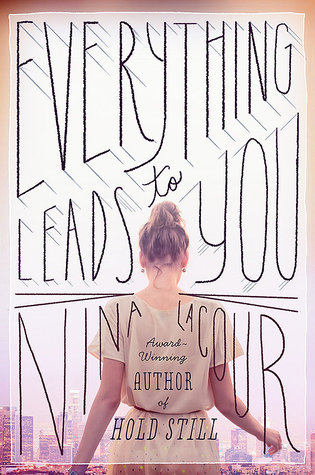 EVERYTHING LEADS TO YOU, by Nina Lacour
Tags: Young Adult, Lesbian, #OwnVoices
A wunderkind young set designer, Emi has already started to find her way in the competitive Hollywood film world.
Emi is a film buff and a true romantic, but her real-life relationships are a mess. She has desperately gone back to the same girl too many times to mention. But then a mysterious letter from a silver screen legend leads Emi to Ava. Ava is unlike anyone Emi has ever met. She has a tumultuous, not-so-glamorous past, and lives an unconventional life. She's enigmatic…. She's beautiful. And she is about to expand Emi's understanding of family, acceptance, and true romance.
FAR FROM YOU, by Tessa Sharpe
Tags: Young Adult, Bissexual, Queer, Mystery, #OwnVoices
Nine months. Two weeks. Six days.
That's how long recovering addict Sophie's been drug-free. Four months ago her best friend, Mina, died in what everyone believes was a drug deal gone wrong – a deal they think Sophie set up. Only Sophie knows the truth. She and Mina shared a secret, but there was no drug deal. Mina was deliberately murdered.
Forced into rehab for an addiction she'd already beaten, Sophie's finally out and on the trail of the killer—but can she track them down before they come for her?
GEORGE, by Alex Gino
Tags: Middle Grade, Transexual, #OwnVoices
BE WHO YOU ARE.
When people look at George, they think they see a boy. But she knows she's not a boy. She knows she's a girl.
George thinks she'll have to keep this a secret forever. Then her teacher announces that their class play is going to be Charlotte's Web. George really, really, REALLY wants to play Charlotte. But the teacher says she can't even try out for the part . . . because she's a boy.
With the help of her best friend, Kelly, George comes up with a plan. Not just so she can be Charlotte — but so everyone can know who she is, once and for all.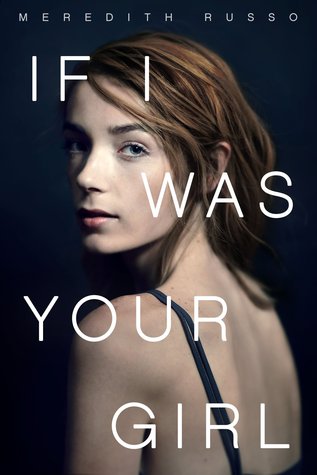 IF I WAS YOUR GIRL, by Meredith Russo
Tags: Young Adult, 
Transexual
, #OwnVoices
Amanda Hardy is the new girl in school in Lambertville, Tennessee. Like any other girl, all she wants is to make friends and fit in. But Amanda is keeping a secret. There's a reason why she transferred schools for her senior year, and why she's determined not to get too close to anyone.
And then she meets Grant Everett. Grant is unlike anyone she's ever met—open, honest, kind—and Amanda can't help but start to let him into her life. As they spend more time together, she finds herself yearning to share with Grant everything about herself…including her past. But she's terrified that once she tells Grant the truth, he won't be able to see past it.
Because the secret that Amanda's been keeping? It's that she used to be Andrew.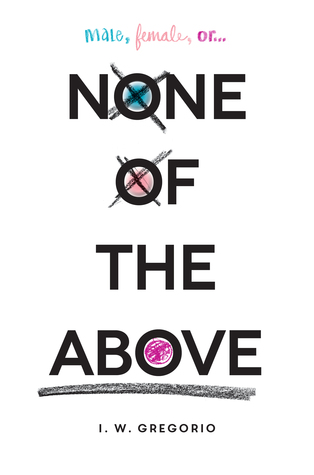 NONE OF THE ABOVE, by I. W. Gregorio
Tags: Young Adult, 
Intersex
What if everything you knew about yourself changed in an instant?
When Kristin Lattimer is voted homecoming queen, it seems like another piece of her ideal life has fallen into place. She's a champion hurdler with a full scholarship to college and she's madly in love with her boyfriend. In fact, she's decided that she's ready to take things to the next level with him.
But Kristin's first time isn't the perfect moment she's planned—something is very wrong. A visit to the doctor reveals the truth: Kristin is intersex, which means that though she outwardly looks like a girl, she has male chromosomes, not to mention boy "parts."
Dealing with her body is difficult enough, but when her diagnosis is leaked to the whole school, Kristin's entire identity is thrown into question. As her world unravels, can she come to terms with her new self?
NOT OTHERWISE SPECIFIED, by Hannah Moskowitz
Tags: Young Adult, 
Bisexual
, Queer, Mental Health, #OwnVoices
Etta is tired of dealing with all of the labels and categories that seem so important to everyone else in her small Nebraska hometown.
Everywhere she turns, someone feels she's too fringe for the fringe. Not gay enough for the Dykes, her ex-clique, thanks to a recent relationship with a boy; not tiny and white enough for ballet, her first passion; and not sick enough to look anorexic (partially thanks to recovery). Etta doesn't fit anywhere— until she meets Bianca, the straight, white, Christian, and seriously sick girl in Etta's therapy group. Both girls are auditioning for Brentwood, a prestigious New York theater academy that is so not Nebraska. Bianca seems like Etta's salvation, but how can Etta be saved by a girl who needs saving herself?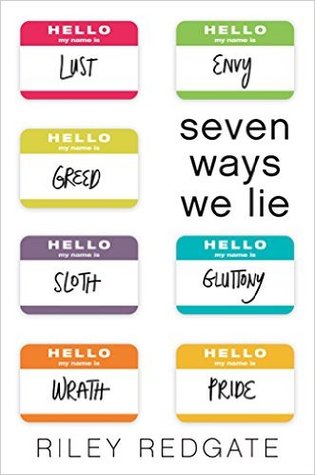 SEVEN WAYS WE LIE, by Riley Redgate
Tags: Young Adult, 
Asexual, Pansexual, Mystery
Seven students. Seven (deadly) sins. One secret.
Paloma High School is ordinary by anyone's standards. It's got the same cliques, the same prejudices, the same suspect cafeteria food. And like every high school, every student has something to hide—from Kat, the thespian who conceals her trust issues onstage, to Valentine, the neurotic genius who's planted the seed of a school scandal.
When that scandal bubbles over, and rumors of a teacher-student affair surface, everyone starts hunting for someone to blame. For the seven unlikely allies at the heart of it all, their seven ordinary-seeming lives results in extraordinary change.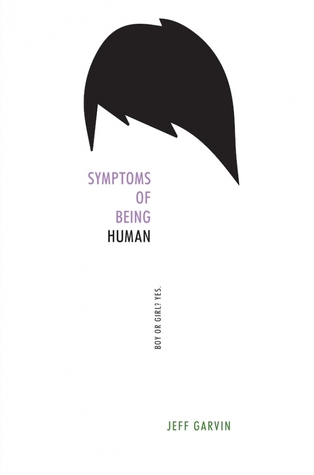 SYMPTOMS OF BEING HUMAN, by Jeff Garvin
Tags: Young Adult, 
Genderqueer
The first thing you're going to want to know about me is: Am I a boy, or am I a girl?
Riley Cavanaugh is many things: Punk rock. Snarky. Rebellious. And gender fluid. Some days Riley identifies as a boy, and others as a girl. The thing is…Riley isn't exactly out yet. And between starting a new school and having a congressman father running for reelection in uber-conservative Orange County, the pressure—media and otherwise—is building up in Riley's so-called "normal" life.
On the advice of a therapist, Riley starts an anonymous blog to vent those pent-up feelings and tell the truth of what it's REALLY like to be a gender fluid teenager. But just as Riley's starting to settle in at school—even developing feelings for a mysterious outcast—the blog goes viral, and an unnamed commenter discovers Riley's real identity, threatening exposure. Riley must make a choice: walk away from what the blog has created—a lifeline, new friends, a cause to believe in—or stand up, come out, and risk everything.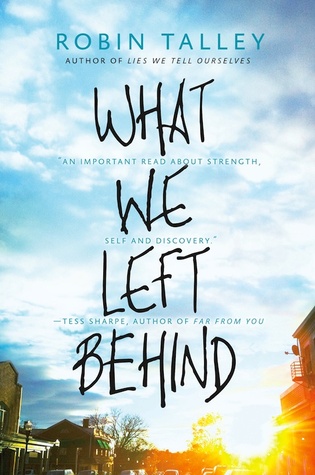 WHAT WE LEFT BEHIND, by Robin Talley
Tags: Young Adult / New Adult, 
Genderqueer, Queer
Toni and Gretchen are the couple everyone envied in high school. They've been together forever. They never fight. They're deeply, hopelessly in love. When they separate for their first year at college—Toni to Harvard and Gretchen to NYU—they're sure they'll be fine. Where other long-distance relationships have fallen apart, theirs is bound to stay rock-solid.
The reality of being apart, though, is very different than they expected. Toni, who identifies as genderqueer, meets a group of transgender upperclassmen and immediately finds a sense of belonging that has always been missing, but Gretchen struggles to remember who she is outside their relationship.
While Toni worries that Gretchen won't understand Toni's new world, Gretchen begins to wonder where she fits in Toni's life. As distance and Toni's shifting gender identity begins to wear on their relationship, the couple must decide—have they grown apart for good, or is love enough to keep them together?
What about you, what books would you recommend? Leave some suggestions in the comments!